Mark Cannariato
On east ease mines and my diamondsss
October 26 - December 1, 2013
Opening reception: Saturday, October 26, 7-10pm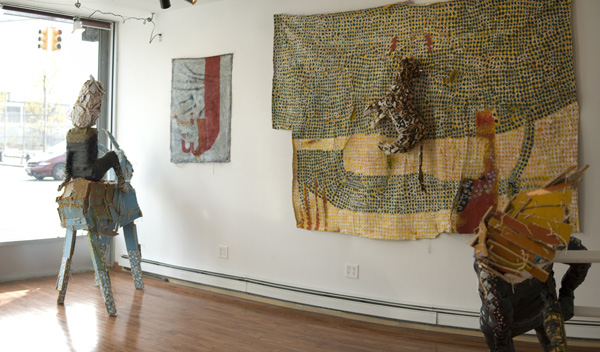 Peninsula Art Space is pleased to present a solo exhibition titled On east ease mines and my diamondsss by Mark Cannariato. The exhibition will be on view from October 26th to December 1st, 2013.
Including a body of work spanning the last four years of Cannariato's practice, On east ease mines and my diamondsss features a series of mythological deities, bizarre sceneries, and crude characters alongside slanted cartoon imagery invoking peculiar codes and figures. Drawing from such diverse areas as Caribbean history, Terrytoons, spaghetti westerns and sci-fi comics, Cannariato's work opens onto a cycle of imagined scenarios whose ingredients mix to produce a rather unfamiliar, ritualistically assembled, result.
Using a wide array of found objects, Cannariato's work attempts to (re)construct the language of an unknown or imaginary history through semi-ritualistic and meticulous transformation of readymade objects. What emerges is an idiosyncratic sculptural idiom, which always point to an elsewhere.
Mark Cannariato was born in Louisiana and has lived most of his life along the Gulf of Mexico. He received an MFA from the University of Southern Florida. He has exhibited throughout the southern states and in New York. He has been a resident at the Millay Colony for the Arts in New York, the Atlantic Center for the Arts in Florida, and Kunst-Stoffe in Berlin. He lives and works in Brooklyn.


Photography by Cristina Mañas