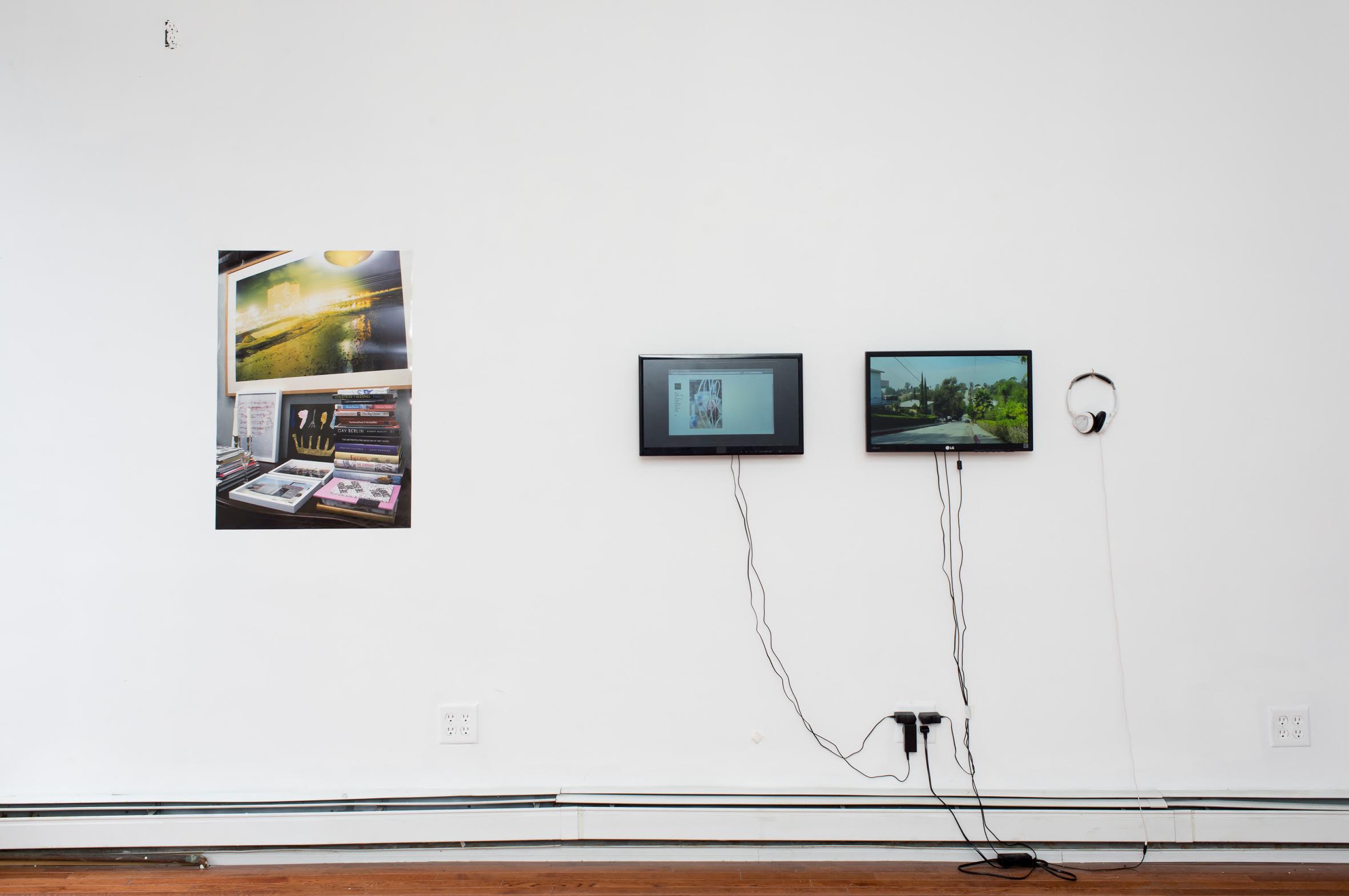 Pairing Down
Søren Aagaard, Felipe Cohen, Diana Policarpo, Ariel Reichman
Presented in collaboration with Residency Unlimited
Curated by Marion Guiraud and Rachel Valinsky
November 6 - 22, 2015

Opening Reception: Friday, November 6, 7-9p
Performance of The Spheres at 8pm
by Diana Policarpo and Hannah Catherine Jones (sound) and Camilla Padgitt-Coles (visuals)
 
Peninsula Art Space is pleased to announce Pairing Down, a group exhibition presented in collaboration with Residency Unlimited and curated by Marion Guiraud and Rachel Valinsky. Featuring the work of Søren Aagaard, Felipe Cohen, Diana Policarpo, Ariel Reichman, Pairing Down presents projects developed over the course of their residencies and elaborations on past works for the first time in New York.

The act of pairing down, understood as both a gesture of reduction and a splitting, doubling, or mirroring of processes or materials is a central tenant of the exhibition. Often employing an economy of means and paying attention to everyday objects to achieve evocative effects, Aagaard, Cohen, Policarpo, and Reichman make use of analogic and metonymic processes to reveal qualities of certain materials and surfaces, devise narrative strategies, draw attention to their surrounding environment, or explore forms of different forms of embodiment.

Søren Aagaard's two-channel video Tabletop Dolly (2014) activates various modalities of autofictional narrative, exploring the interplay between the flow of voice-over and the flow of images culled from the artist's 2010 photographic travelogue archive. Aagaard mixes registers of fiction, fact, and observation, describing modes of engagement organized around culinary experiences, tourist tropes, and national identity.

Felipe Cohen's collages and sculptural works deploy everyday materials, including paper, cardboard, basalt, and glass, among others, to explore the constructive and often revelatory potential of simple objects. His minor interventions into the materials are nevertheless decisive transformations, that grant humble objects an ability to signify both their essential qualities and their movement across visual and perceptual registers.

Diana Policarpo's Visions of Excess (2015) draws on Georges Bataille's The Accursed Share to develop a sound-poem installation that attempts to reformulate a comprehensive theory of general and political economies from a feminist perspective. The artist's voice within the installation sets up an embodied environment, converting excess and expenditure into immediacy and presence. At 8pm during the opening, Policarpo, Hannah Catherine Jones, and Camilla Padgitt-Coles will perform The Spheres (2015). Through live improvisation, they will create imaginary landscapes and ethereal atmospheres, weaving sound with layered vocals, revisiting scenes from Music of the Spheres/Status Quo (1938), an unfinished opera for electronic instruments by Johanna Magdalena Beyer (Leipzig, 1888-New York, 1944).

Ariel Reichman explores the individual's navigation between private and public spheres, through different visual modes of access. His video, My Mother, you see, she just doesn't know how to light a lighter (2015) presents an intimate, repetitious gestural performance, enacted by the artist's mother and her attempt to use a commonplace object for the first time. Reichman's Barbed Wire painting similarly play out themes of frustrated access, turning the wall into a boundaryscape, an abstract yet local structure that mediates aesthetic forms and modes of engagement.

Photo: Søren Aagaard, Tabletop Dolly (still), 2014
*

Søren Aagaard (b. 1980, lives and works in Copenhagen, Denmark) is a multi-disciplinary artist from a variety of perspectives including sociology, anthropology, and linguistics. His work is often influenced by his background as a chef. As such, food is one of the varied mediums he employs to examine how genres, labels, etiquette, codes and social conventions function to construct meaning within visual art, film language and everyday phenomena. With his background as a chef, Aagard often uses the dinner situation as a setup for his films. Søren has shown his works in exhibitions across Europe with solo exhibitions at YEARS, Copenhagen (DK) 2015, KINDERHOOK & CARACAS, Berlin (D) 2014, Skånes Konstförening, Malmö (S) 2013 and screened his films at CPH:DOX 2013 (DK), Kenya International Film Festival (EAK) 2011 and BERLINALE International Film Festival, (D) 2010.

Felipe Cohen (b. 1976, São Paulo), holds a BA in sculpture and drawing from Fundação Armando Álvares Penteado (São Paulo, Brazil). In 2001, he was selected for the Exhibition Program of the Centro Cultural São Paulo (Brazil), which earned him his first solo exhibition. Since then, he presented solo shows at Capela do Morumbi, Centro Universitário Maria Antonia, Galeria Millan and Galeria Marília Razuk, all in São Paulo. In 2009, he held his first solo exhibition in Rio de Janeiro, at Anita Schwartz Gallery. In 2010, he presented a solo show at ARCO (Madrid, Spain) as one of the artists invited to the Solo Projects Program. Among the group exhibitions in which he participated, it is worth mentioning the 8th Mercosul Biennial (Porto Alegre, Brazil, 2011), and exhibitions held at Itaú Cultural Institute (São Paulo), On Another Scale, Galeria continua, (San Gimignano, Italy) and Museum of Contemporary Art (Arizona, USA). He was granted the award Mostra Fiat Brasil, in 2006. In 2009, he won the Banco Espírito Santo acquisition prize at SP-Arte (São Paulo), and his work was included in the collection of Pinacoteca do Estado de São Paulo. In 2013, he had two works acquired by the MAR – Museu de Arte do Rio (Rio de Janeiro), and, in 2010, two of his works were added to the collection of the Museu de Arte Moderna (São Paulo). In 2011, he was finalist in the CNI SESI Marcantonio Vilaça Award and participated in the opening exhibition of Instituto Figueiredo Ferraz (Ribeirão Preto, Brazil). In 2010, 2012 and 2013, was nominated for the PIPA Prize.

Diana Policarpo (Lisbon,1986), is a visual artist, composer and housing activist based in London (UK). She received an MFA from Goldsmiths College, University of London. Her work investigates power relations, popular culture and gender politics, juxtaposing the rhythmic structuring of sound as tactile material with the social construction of esoteric ideology. She creates performances and installations to examine experiences of vulnerability and empowerment associated with acts of exposing oneself to the capitalist world. As well as working on solo projects she often works collaboratively and has recently made live performances with Cabiria (Hannah Catherine Jones and Marina Elderton), Deniz Unal and Daniel Fernandez Pascual. She is the founder of Erinyes, a digital sound archive and network dedicated to art, feminism and technology. Recent exhibitions, events and performances include: Leap of Faith, The Living Room, London (2015); Body Meets City, New York (2015); Super Woofer, Matt's Gallery, London (2015); (Dis)Identifications, ICA, London (2015); Visions of Excess, Xero Kline & Coma, London (2015); Does Not Equal, W139, Amsterdam (2015); Mai Im Januar, Shau Fenster, Berlin (2015); Beating Back Darkness, Kunsthalle Baden-Baden, Germany (2014); Sound Works by Women Artists, listening seminar, Goldsmiths College, London (2014); General Strike, The Mews / Art Review, London (2014).

Working in a wide range of media from installation, drawing, film, and performance, to photography, painting and sculpture, Berlin-based artist Ariel Reichman (born, 1979, in South Africa) explores concepts of reality differing between spaces that are commonly understood as the public sphere and one's intimate surroundings. Reichman is in search of a liminal space that is neither both. He offers to underline the physical and mental state living with in-between the outside and the inside. After emigrating from South Africa to Israel in 1991, Reichman studied at the Universität der Künste Berlin under Hito Steyerl until 2008. He holds an MFA from the Bezalel academy of art and design. Migration and liminality have been the focus of Reichman's research and artistic practice. His work proposes multiple layers of meanings and narratives, that question one's existence in space both physical and conceptual, culture, rituals and forms. Described as 'conceptual expressionism', Reichman's work offers an unsettling contradiction, that questions one's own physical and symbolic presence, as a viewer, and consumer, but yet draws towards a physical and experience of the work. Reichman's work has been exhibited at Manifesta 8, Spain; Sommer Gallery, Tel Aviv Museum of Art, and CCA, Tel Aviv; Waterside Contemporary, London; KW Berlin; Savvy Contemporary, Berlin; and PSM, Berlin, among others. He presented a solo exhibition at Frieze New York in 2014.