Matter to Scale
Guy Nelson, Leah Raintree, Brian Rattiner, Christine Howard Sandoval, and Laura Tack
Curated by Marion Guiraud and Leah Raintree
June 20 - July 20, 2014
Opening Reception: Friday, June 20, 7-10pm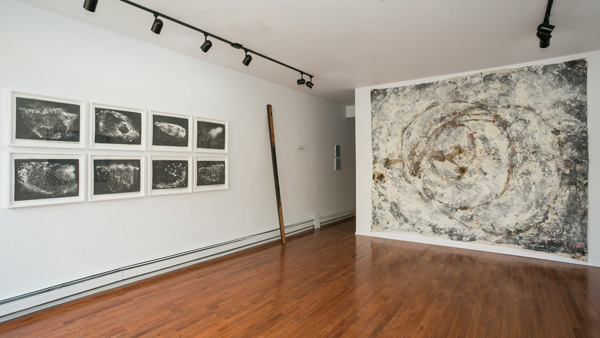 Matter to Scale is an exhibition featuring Guy Nelson, Leah Raintree, Brian Rattiner, Christine Howard Sandoval and Laura Tack, exploring time, scale and the environment through the limits and transformation of matter. Scaling is a measured process of reduction and amplification. Modeling to scale lends legibility to the material world through proportionate representations, while time-scales provide a tangible framework for durations beyond our immediate experience. In each, scaling inherently relies upon abstraction to distill complex systems and phenomena, requiring the elimination of particularities and nuance.
Matter to Scale offers alternatives to scaling, operating through the logic of these processes but in reverse. Rather than describing the material world through models and representations, the artists in the exhibition work directly with matter, engaging processes that record material interactions while pointing to scales beyond the works. In this condition, matter becomes the vehicle to oscillate between scales, without losing the intricacy of the material in use.
Direct action upon materials is central to the exhibition, with immediate, physical gestures producing impressions to the scale of the matter itself. These gestures, empirical in nature, include walking, striking, exposing, layering, comparing and tracing, with each work generating a tangible record of an otherwise ephemeral state. Throughout the exhibition, matter is addressed at points of oscillation: between natural and manmade conditions, entropy and formation, physical immediacy and distance. Each artist engages specific material processes by initiating or exploring varying states of flux.
Guy Nelson works with polymers and objects of the natural world with a focus in sculpture and photography. His work calls attention to objects and new relationships, exploring nuances of form and surface through hybrids of the synthetic and organic.
Nelson was born in Fargo, ND and earned his BA in Sculpture and Photography from Minnesota State University Moorhead in 2000. Nelson is a recipient of the 2005 Minnesota Artist Initiative Fellowship and founder of AquariumNY, a critical studio visit series located around NY. Solo exhibitions include Understory, Fore and Aft, Georgetown, ME; The Introducing Series, Roger Smith Arts, NY, NY; Individuals and Collectivists, UICA, Grand Rapids, MI; and Looking is Stealing, SooVac, Minneapolis, MN. Group exhibitions include: We Don't Owe You A Thing, Small Black Door, Queens, NY; The New Brutalists, Parallel Art Space, Ridgewood, NY; andPlace Angle Position, Heskin Contemporary, NY, NY, among others. Nelson lives and works in Brooklyn, NY.
Leah Raintree is a multidisciplinary artist who addresses our relationship to the environment through permeable, process-based interactions with sites and materials, working across drawing, photography and installation.
Raintree was recently an Artist-in-Residence at Frans Masereel Centrum in Belgium during the spring of 2014 and will participate in Lower Manhattan Cultural Council's Process Space this fall, for a project focused on the New York Harbor. She participated in Lower Manhattan Cultural Council's Workspace Program during 2012-13, while a concurrent Visiting Artist at NYU with the Department of Art and Art Professions. In 2011, Raintree completed a site-specific installation for No One is an Island at Building 110: LMCC's Arts Center at Governors Island and has exhibited at the Cooper-Hewitt National Design Museum (NYC), The Walter Phillips Gallery (Banff), Parallel Art Space (Queens), NURTUREart (Brooklyn), The Invisible Dog Art Center (Brooklyn), and FiveMiles (Brooklyn). She has had solo exhibitions at Foley Gallery (NYC) and Reynolds Gallery (VA). Additional Artist-in-Residence programs include the Banff Centre (2012) Mildred's Lane (2011), Atlantic Center for the Arts (2010), Vermont Studio Center (2009), Big Cypress National Preserve (2006) and Rocky Mountain National Park (2005). Raintree was raised in rural Virginia and lives and works in New York City. She holds a BFA from Virginia Commonwealth University and an MFA from Parsons, the New School for Design.
Brian Rattiner considers himself a colorist and much of his work explores the dichotomy of living in the city while feeling the pull of nature, and the question of in which realm our reality lies.
Rattiner was born in Brooklyn, NY in 1982 and earned a BFA from The Rhode Island School of Design in 2004, where he studied Illustration and Painting. He has exhibited nationally and internationally at Fiona and Ryan Art Space, Brooklyn NY, The Leroy Neiman Gallery, Colombia University, Arch Collective, Brooklyn NY, and Galerie Les Amis des Arts, Aix en Provence, France. He curated a group exhibition at Arch Collective NYC and has participated in Bushwick Open Studios at several locations. He has done residency programs exploring solitude in the French Alps with curator Laure Le Baron, and in a barn-turned-studio in Lincolnville, Maine. For the past three and a half years he has worked as a production assistant to Robert Longo and in his studio in Greenpoint, Brooklyn.
Christine Howard Sandoval is a multi- media artist whose life spent between the high desert of Colorado and NYC has placed the politics of fragile landscapes at the center of her artistic research.
Sandoval has exhibited nationally and internationally including Designtransfer, Universität der Künste Berlin (2013), El Museo Del Barrio, NY (2013), and Socrates Sculpture Park, NY (2010) and was nominated for a 140 Foundation Artist Grant (2011). She is currently a featured artist on Sculpture Center's website. Sandoval has been an artist-in-residence at Triangle Arts (2010) and The Vermont Studio Center (2010). She holds a BFA from Pratt Institute (2006), an MFA in Fine Arts from Parsons, The New School for Design (2013), and is currently a Post-Graduate Teaching Fellow at Parsons. Sandoval was born and raised in the Silicon Valley, CA and lives and works in Brooklyn, NY
Laura Tack works through images and materials in an attempt to connect with the vastness of time, using processes that emphasize the connection between creation and destruction.
Tack was born in Belgium and holds a BFA and MFA from The Royal Academy of Fine Arts, Ghent. She has exhibited in New York, New Jersey, Miami, Minnesota, Ghent and Kuurne. Her recent exhibitions include Under One Roof, New York, Laura Tack & Leyla Aydoslu, NVT Galerie, Ghent, These Things Take Time, Ghent, War of the Senses Tank #16, Entrepôt, Brugge, Miami Art Basel, Select Fair, Miami, Habitat, Franklin Arts Center Resident Artists Gallery, Brainerd, Minnesota, Curation Kick-Off Kunst Kotroute, Museum of Contemporary Art (SMAK), Ghent, Members Only, CultureFix, New York, and Problematic, Brooklyn Fire Proof Gallery, New York. In 2010 she received the first Prize of the Foundation René Bruynseraede de witte –Kask, Ghent. Tack curated a group exhibition at Con Artist Gallery, New York, and at Museum of Contemporary Art (SMAK), Ghent. She currently lives and works in Ghent, Belgium and Brooklyn, NY.